A New Chapter in Jobsite Medical Care 
It's time to turn the page on the traditional ways of managing workplace injuries and opt for an effective, cohesive solution that optimizes both health outcomes and operational efficiency. With JobSiteCare, you gain a partner committed to offering a comprehensive approach to workplace injury management, from the moment of injury through return to work, all coordinated by board-certified physicians.
We offer a comprehensive suite of services designed to meet the unique challenges of workplace injuries.
24/7 Physician-Led Telemedicine
Our board-certified physicians are available around the clock to offer expert medical care via a secure, HIPAA-compliant platform.
End-to-End Case Management
Complete oversight of an injured worker's care journey, from initial diagnosis to return-to-work, coordinated by our medical team.
Specialist Care Coordination
Our physicians arrange and schedule any necessary specialist visits, ensuring high-quality care throughout the recovery process.
Onsite Medical Services and Staffing
We offer medical personnel at your worksite to provide direct care, enhancing the health and safety of your workforce.
Medical Director on Demand
Access to a qualified medical director is available on demand to guide healthcare decisions and protocols.
Traditional Care Problems vs. JobSiteCare Solution
Little control of care process
Unnecessary diagnostics and referrals
Treat the patient like family
Consolidate injury data for analysis
Our

Workplace

I

njury Management

Proven

Process
Our approach focuses on a rapid and efficient response model, ensuring top-quality care for injured workers right from the get-go. When an injury occurs, our physicians are reachable within 60 seconds, offering immediate workplace injury triage. Our experts are trained to rapidly assess the injury's severity and provide immediate, appropriate workplace injury treatment.  
When specialized care is required, we quickly arrange referrals to trusted specialists within your existing network. Our physicians maintain ongoing dialogue with these specialists, facilitating clear expectations and continuity of care. We also closely monitor the worker's progress to uphold our high standards of workplace injury care. 
Consistent follow-ups are a key part of our process. This ensures that the injured worker receives the best possible care while reducing the risk of complications and speeding up the recovery process. 
Injury
Access a Board-Certified Physician within 60 Seconds
Treatment
Assessment, Treatment and Recovery Begin Immediately
Recovery
A curated Process Focused on Return to Work
Software that Fast-Tracks Quality Care
Patient care and user friendliness are at the core of our telemedicine software platform. This design ensures that injured workers receive immediate, physician-led care without unnecessary delays. The software is built to be intuitive, making it easy for anyone to use. With a focus on rapid response and professional–quality care, our platform enhances the overall experience for both companies and their workers, contributing to better recovery outcomes and reduced operational costs.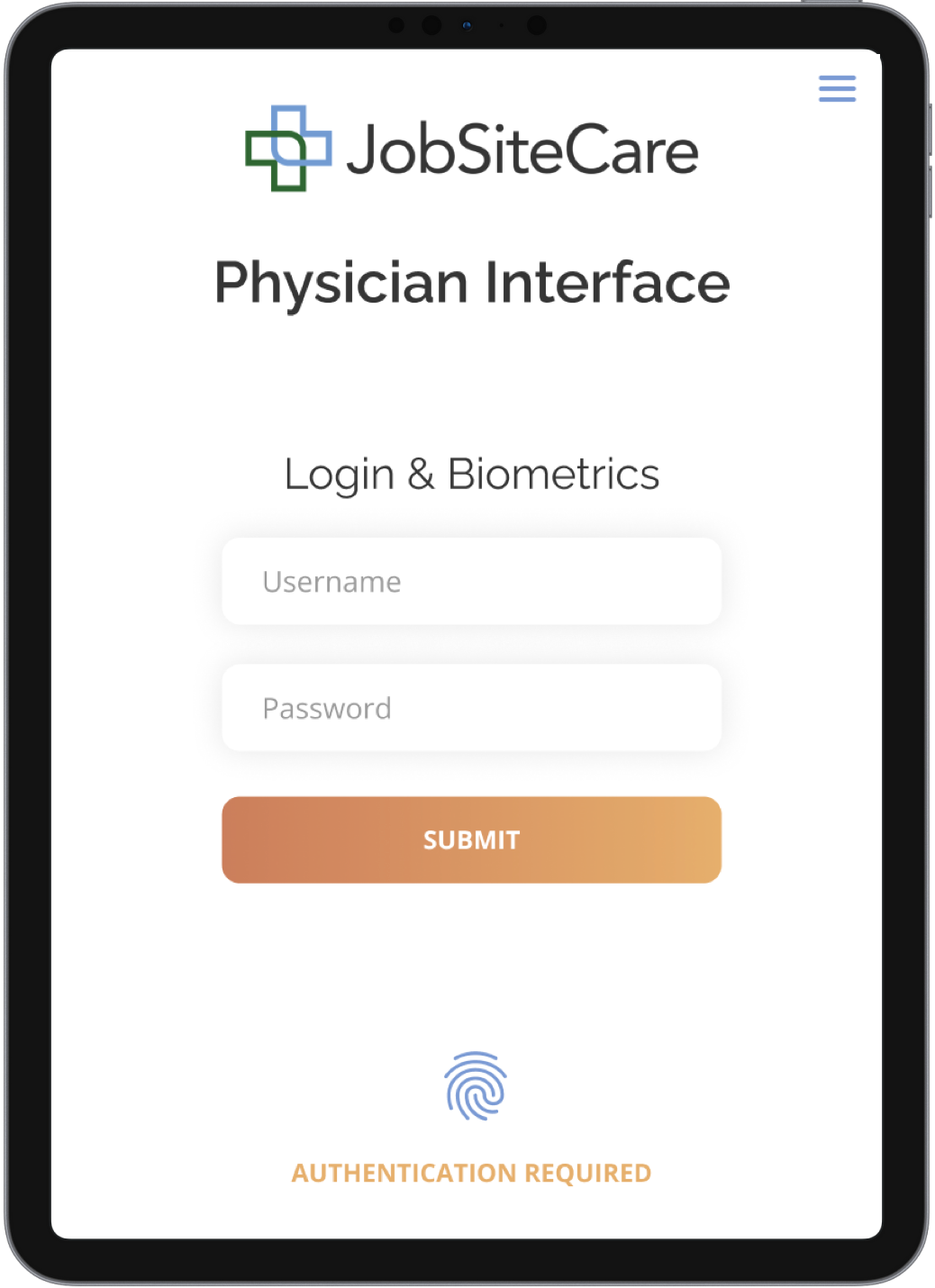 Ideal Clients for JobSiteCare
High Claim Counts and Costs
Work Site Risks
Hazardous Work
Remote locations
Loss Sensitive
High Deductibles
CCIP / OCIP
Company Culture
Recruit and Retain
Maintain a healthy workforce